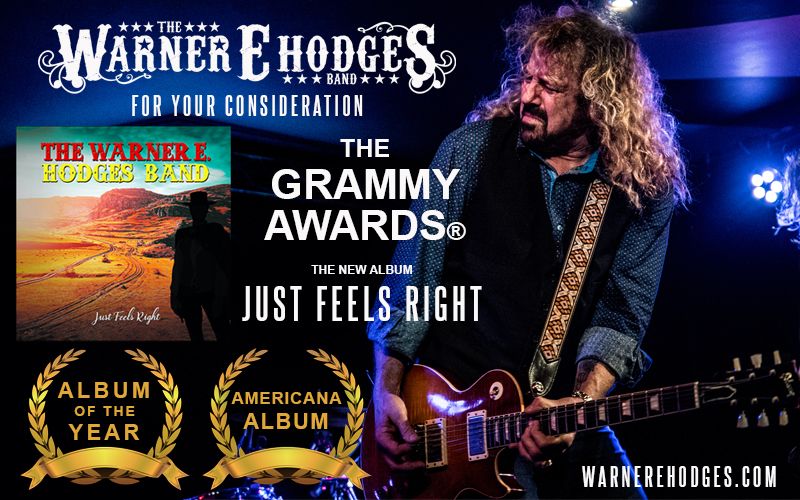 PLEASE SHARE 
The Warner E. Hodges Band debut album "Just Feels Right" featuring Warner E.Hodges, founding member of Jason & The Scorchers (Americana Music Association Lifetime Achievement Award recipients for Performance) and Dan Baird & Homemade Sin. 
www.warnerehodges.com 
www.jcplmusic.com 
"Just Feels Right" is under consideration for a Grammy Awards® nomination in the Album of the Year and Americana Album categories. 
#warnerehodges 
Listening link https://open.spotify.com/album/0RDIjwJhaK4thAoVS9hgmp?si=eIogVGG9S-O_0kWpF3T9uA 
#album 
#wearemusic 
#albumoftheyear 
#americanaalbum 
#foryourconsideration 
#Americana 
#foryourgrammyconsideration #warnerehodges 
#audiomediaresearch #grammyconsideration #warnerehodges 
#grammyawards #recordingacademy #grammys 
#jcpl 
#jerkincrocuspromotionsltd 
#andybrooksonic 
#thebrookstudio 
The Warner E. Hodges Band are: 
Warner E. Hodges - Guitars, Vocals 
Ben Marsden - Guitars, Vocals 
Jason Knight - Bass Guitar, Organ, Vocals 
John Powney - Drums, Percussion 
Joe Blanton - Vocals, Harmonica 
Dan Baird - Bass Guitar 
Max Abrams - Tenor Saxophone 
Produced by Joe Blanton and Warner E. Hodges 
Engineered by Joe Blanton and Andy Brook 
Mixed and Mastered by Joe Blanton 
Songs written by: 
Warner E. Hodges; Joe Blanton; Dan Baird; David Newbould; Keith Christopher.