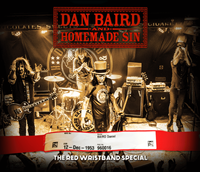 NEW ALBUM: THE RED WRISTBAND SPECIAL 
Live at Kendal, Bootleggers, July 26, 2017 – First Set, plus four bonus studio tracks 
Out late August, pre-order now 
Lend a band a hand and... 
Pre-order THE RED WRISTBAND SPECIAL now! 
As many of you already you know Dan will be off the road for the remainder of 2017 due to health issues. On Dan's personal invitation Bluefields and Royal Court of China frontman, Joe Blanton is stepping-up to the plate to front Homemade Sin for the rest of the year. Although we expect the majority currently scheduled shows to happen it is inevitable that some promoters pull out and we will lose dates as a result of Dan's absence. In order to ensure that the autumn tour goes ahead as planned, we are rush releasing a new CD as a 'tour support crowd funder' to help cover any shortfalls caused by gig cancellations. 
The Red Wristband Special features the first set from Dan Baird & Homemade Sins recent show at Bootleggers in Kendal, UK, recorded on July 26, 2017. The CD also features four bonus studio tracks. The CD will ship late August. 
Help us keep Homemade Sin on the road and pre-order The Red Wristband Special now. 
Thanks - 
Dan, Warner, Mauro & Micke 
The Red Wristband Special 
Live at Kendal, Bootleggers, July 26, 2017 - First Set 
"Through unfortunate happenstance, the second set is lost to the ether. It was great, we're sorry too. Well, let's just say I'd be in hospital within 24 hours of this show. My CLL was coming like a tsunami. Jaundice already in evidence, exhaustion showing up in my voice at the end of every 2nd chorus, having the crowd sing second chorus whenever possible, leaning on Warner, Mauro and Micke so much I bet there are still dents in their shoulders, finding one more bit of energy and finishing the tune. I'll blame that wonderful crowd and the ghost of Jonty Martindale. This show had no reason to be even this good. Yes, it's flawed, but I may be as proud of this show as any I've ever done." - db 
Plus four bonus studio tracks - 
Dan Baird & Homemade Sin - Way Too Soon (Rollercoaster album outtake) 
Warner E. Hodges - I'm Never Alone (taken from his forthcoming new solo album) 
Mauro & Briana - Falling (taken from The Four Corners Of Sweet Hell album ) 
Joe Blanton - That Was Now and This Is Then (previously unreleased) 
The Red Wristband Special 
Release date: Late August 
Price: £15.00* + postage and VAT (where applicable) 
*Please note that £15.00 is the minimum price, you can contribute more if you'd like. 
PRE-ORDER HERE!
And updates on what's happening:
Dan Baird :  July 28 at 10:48am  (FB)
Long post warning- 
Gang, I gotta take a leave of absence for the rest of the year. It's a medical thing. CLL, chronic lymphocytic leukemia. Knew i had it and it was coming but I thought it was a couple of years off. Not so. Older folks blood condition that wants to eat up you body and red blood cells as well as leave junked white blood cells like wrecked cars all over the blood stream. Inherited. Treatable. But debilitating in the short term when it picks up a head of steam, like now. 
Dern tootin I'ma gonna give it a fight. I got a good piece of stubborn in me, might as well put it to a decent use. 
The bad news is The Yayhoos shows, and the 2 weeks in the states and a month in Europe and England of db & HMS shows this year that I can no longer do. Sorry. 
I'll find a way to get stronger. Skip the damn crying emoji, please. It makes me feel like a death sentence. It ain't. One of the most addressable blood disorders. 
Besides, I'm the luckiest fucker any y'all ever even heard of, and I know it. 
Mick Brown has me set up in a nice English hospital right now, and am being treated to be well enough to fly home and start the real work. Great staff here at the hospital and this wacky idea that you shouldn't have to pay for it. Oh those crazy socialists! 
Shout out to Pete Mason for calling "its time, get his ass to the hospital ". 
Warner Hodges, Mauro Magellan and Micke Björk are doing the last 3 HMS shows as a 3 piece. Throwing it together to honor the dates in the back of the van rolling to the gig. Gentleman, you are truly what the good shit is made of. Certified dudes. 
Now, if you don't put the top hat on the mic stand and play a huggy kissie/Freebird medley at least once I'll never forgive you. 
db
Dan Baird and Homemade Sin:  Published by Warner Hodges · July 30 at 2:01pm · (FB)
The last 3 days have shown me that music is the international language of Love and Support. Dan Baird And Homemade Sin took a serious gut punch with Danny coming up ill, I mean REALLY ill. We watched him drag himself through 3 or 4 shows where he should have been in Hospital. He wanted to finish the tour. He has, finished this tour, with our help. Thank everyone who supported our cause, and please keep Dan in your thoughts and prayers as he recuperates. He's a fighter and he'll be back, better than ever. We'll be there to push that R & R music with him. 
Thanks. 
Warner
Dan Baird and Homemade Sin:  Published by Mick Brown · August 1 at 5:13am · (FB)
Message from Dan: 
Hey gang, long post warning again, 
I've been overwhelmed by all the love and good wishes, and those mean a lot, but I've got to tell you I'm only a part of the picture. 
Homemade Sin is and always has been a band. A working band. 
At this moment, I don't know exactly what the future holds for me, but I intend to beat this CLL crap and resume playing as soon as possible. 
The other guys need to continue to work. Nobody knew how this thing was going to play out, but over the last three shows without me, they have stepped up beyond belief. 
Totally unrelated to what has happened to me, but, Micke made the decision a few months back that he needs to spend more time with his family, so he will not be playing anymore HMS shows this year. We hope like hell that this a temporary thing. He has been immense since he joined and it's fair to say that the band would not have continued had we not found him. We love him and it speaks volumes about the man that he is putting his family ahead of his own personal desires. 
Homemade Sin - Warner, Mauro plus new bass player - want to try and keep the flag flying until I recover. I very much want that too. 
Please read below the plan that we as a band and Mick Brown, our manager, want to try and implement with your help: 
HMS are booked through till the end of the year. Dan is irreplaceable (Mick put that in, I didn't write that! db), but we do have a pool of musicians and friends within the HMS family who we are going to call on to help out on the upcoming shows in a guest capacity. We want to keep the basis of the show HMS, but we will have to broaden the remit a little, some Scorchers, some covers, but still a whole wallop of HMS and Satellites and whatever it ends up being, it'll be a kick ass rock n roll show. 
Many of the promoters are friends and will be prepared to take us without Dan given the circumstances, others will need convincing. Lots has been made of the HMS family bond and it's a real thing, most of you being a part of it. Here's how the family can help: 
If you already have a ticket for a show, please don't ask for a refund. Go see the show, have a good time, support the band. 
If you were thinking of buying a ticket in the future and have the means, do it now. We can show the promoters that we have your immediate support and can make the shows work. 
If you know we aren't coming anywhere near you, you can't get to a show but want to support us anyway, choose a venue and buy a ticket, it'll help the promoters. 
Even given all of the above, it's inevitable that we'll lose some shows. If you are a promoter or club owner in the US (Sept) or Europe (Oct / Nov) and have availability and want to help us out, e-mail mick.jerkincrocus@gmail.com we may have gaps we need to fill, even if we don't it'll still be great to know you are there for the future. 
Please, we don't want donations of money, we want to be able to ply our craft and earn a living. 
We will be putting together a compilation cd as a 'crowd funder' to help us cover any shortfalls caused by any cancellations. Details to follow over the next couple of weeks. 
The fan family around this band has been and continues to be amazing, please help us hold things together whilst Dan recuperates. 
Thank you 
Dan, Warner, Mauro and Micke